There are two possible options for FSC project certification:
Full Project Certification: For full project certification, the standard requires a minimum of 50% of the timber products used to be FSC 100%, FSC Mix or post-consumer reclaimed, with the remainder being 'other reclaimed' or 'controlled wood'.
Partial Project Certification: For partial project certification, stated components will be FSC certified (e.g. windows, cladding, timber frames) and this must be made clear in all publicity. There are no minimum requirement or restrictions on sources of other timber (partial certification can either be the intention at the outset or a fall-back position if it proves impossible to meet full certification).
How does Project Certification work?
Having selected an FSC accredited Certification Body, your project manager (either in-house or a consultant) must then liaise with them to put in place a system of collating and verifying documents relating to purchases of FSC certified timber by all contractors and sub-contractors. As with any Chain of Custody certification, all relevant personnel will need training in:
how to specify FSC certified timber
how to find FSC certified suppliers
how to verify that FSC certified timber has been supplied
what to do if non-FSC certified timber is delivered
Do companies supplying timber for an FSC certified project have to hold certification?
Project managers working on an FSC certified project can ensure that forest products are FSC certified in one of two ways:
Purchasing the product from an FSC certificate holder. All FSC certified companies worldwide can be found on the FSC certificate database.
By including companies in the scope of the FSC project certificate if they have been contracted/sub-contracted to purchase, transform and/or install FSC certified wood material/products specifically for the project. This could include contractors/sub-contractors working on or off the project site. These entities/companies would not be required to hold their own valid FSC chain of custody certificate, however all FSC certified wood materials and/or products sourced by them or for them, which is used in the project, would have to be sourced from valid FSC chain of custody certificate holders if it is to be recognised as FSC certified.
Steps to certification
Source FSC-certified materials
Contact a Certification Body
Contact one or several third party Certification Bodies who will provide an estimate regarding cost and timeline, The Certification Body will provide you with information about the requirements for FSC certification.
Collect supporting documents
Collect the information needed to meet the necessary requirements. Your FSC-accredited certification body validates whether your operation complies with the FSC requirements.
Certificate Issued
If you comply with the standards, you will be given an FSC certificate and your certificate details will be added to the FSC certificate database. You will be issued with an FSC certification code (XXX-COC-000000) and a trademark licence code (FSC-C000000) and can use the FSC trademarks to promote and communicate about your FSC-certified projects.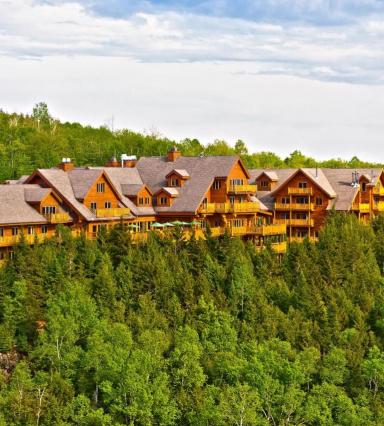 Geos Spa Sacacomie
The first FSC Project Certification awarded in Canada
In 1992, Yvon Plante bough some public property from the government. Led by his personal ambitions, he decided to create a hotel which was reminiscent of cabins in western Canada which preserves the natural character and wildness of their surroundings.
The goal was to update the hotel and add a 1440-m2 (15,000-sf) interior and exterior spa. At the same time aiming to minimize its environmental impact and incorporate sustainable design elements, including the use at least 50 per cent FSC-certified wood products and obtain FSC Project Certification.
At the time, some of the chosen suppliers didn't have access to certified products. And yet, since the priority of this project was to use wood stemming from a sustainable forest, RPM Sustainable Development found certified wood producers, ordered the wood for the suppliers, supervised and documented the delivery of the wood, as well as of the Chain of Custody to ensure the integrity of the final product.
The Geos Spa Sacacomie used a total of 83 per cent FSC-certified regionally sourced white pine, making it the highest percentage in a Canadian accommodation facility.
You also may be interested in